Want to know how to track your Facebook users using Google analytics? It's certain that knowing your audience behaviour is one of the most crucial aspect of blogging when it comes to analytics.
Am Sure you can learn successful Blogging secrets through me, am also sure you can learn how to make money online with the help of my updates why not leave your email behind let me show you how.
If you can track your Facebook audience behaviour in the right manners you can easily optimize your blog posts to get more page view particularly from Facebook and other social networks having known your readers behaviours.
In this article we shall be talking on how to track your facebook users using Google analytics and why you need to track your Facebook audience as a blogger, to enable you find how many people browsed the links you shared on your Facebook , groups, pages or timeline.
Why You need to Track your Facebook Users Using Google analytics
We all know that Facebook insights focus mainly on activities that happens around your
Facebook Videos
Pages
Post engagement
Page followers
page likes
Facebook reach
Page views and action on page
Having learnt that, you may also want to know how your Facebook readers interact with your shared links , and the only way to do this effectively is by tracking your Facebook users using Google analytics as the tracking tools so you can know what people are doing while on your Facebook page
As a content marketer using Facebook you may want to know what happens after a Facebook user clicked on your link and landed on your website or sale pages, without knowing that you may find it hard to know wither your Facebook users are complying to your posts or not.And this is why it's crucial you track your Facebook users using Google analytics as a tool to know what happens immediately after clicking on your links from Facebook.
How to track Your Facebook Users using Google analytics as a tool
Traffic Source Overview :
Login Your Google analytics account and from your dashboard simply click on Acquisition and select All traffic then click on Channels in your analytics dashboard.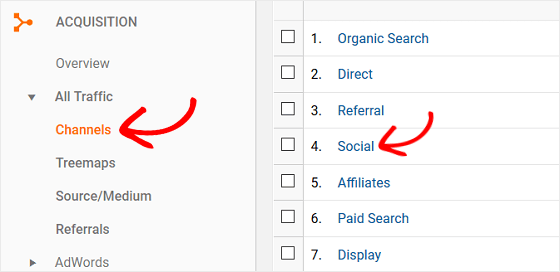 From here you will see the total lists of sources where your website traffics are coming from. We have the organic traffic source , the direct referral, affiliates, Paid search ,social Display etc. From the various list of traffic sources listed on the page select Social to see the analytics reports concerning social media behaviours on your website.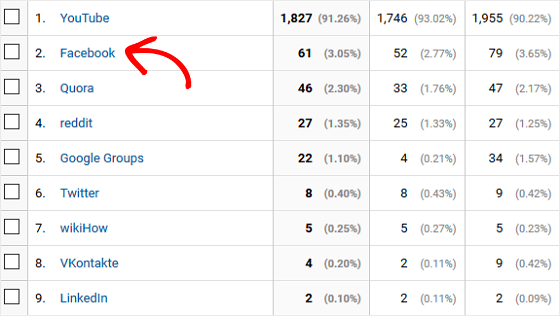 From the next page you will find the lists of all the social networks bringing traffic to your website You can see your bounce rate , page session,average session durations and other e-commerce related metrics if you have any related to your website.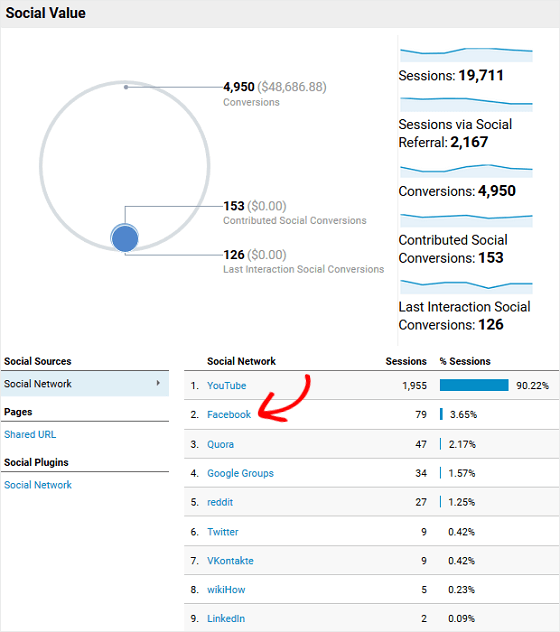 Having seen that, you will have to select Facebook to get more analytics reports about your website interaction on Facebook .Now you can brows on to see your landing page and social acquisitions.
We all know that Facebook is not the only social network but it's far bigger than other social medias because of the many activities surrounding it.
As a blogger you may also want to track crucial infos related to Facebook or other social medias and below are some powerful tools to track your social media efforts apart from using Google analytics mentioned above.
All of the above social Tracking tools are free tools as am a big free tool fans. I only recommend the free ones because i know they can offer you what you want as far as social tracking is involved.
Having Talked about how to track your Facebook users using Google analytics as a tool or using other essential free tools let me throw some lights on how you can promote your blog on social media.
Without promoting your blog on social media you can't possibly track your blogs social media presence therefore the below tips are guides on how to promote your blog on social medias such as Facebook
Always try to include links in your blog post and Social profiles
Immediately after setting up your blog for business, go to your social media profiles and add your website links this will enable clicks when readers view your profile as they will see your website link right on your profile page.

If you post daily about your blog, under your short descriptive notes always remember to add your website link either in the raw form or shortened form using link Shrinkers.

Schedule Your Posts to drive traffic to your Blog

Try to know when most of your friends come online. schedule your posts to that same time to meet your readers are the appointed time.

With this you will get more clicks and post interactions because most of your friends are online to see your post.

Don't just share on Your Timeline

Facebook as the biggest social media offer the feature to share posts on your timeline and other peoples timeline.

Share your post on your timeline and share on your friends timeline as well. this will enable you reach a wide range of audience as your friends and the friends of your friends will as well see your posts.

You can also share your posts on your groups , pages and other peoples open groups this is why you need to join more groups to do more group share and get your links everywhere on Facebook without any spamming form.

Share only Relevant articles

Your Facebook , twitter, Google+ friends are also human. when sharing your articles don't share trashes on your walls and timelines

If your readers have noticed you to be someone who share irrelevant articles, they will definitely stop clicking on your links and as such you will be getting less social media traffic on your blog.

Before sharing your links on Facebook or other social medias give a brief description of what your links is all about. this will create more impression to click on your links.
Hope the above article helped you in tracking Facebook users using Google analytics as a tool? and you have also learnt some quick tips to share your articles on social medias to get more traffic. if you find this article useful kindly share and comment below.